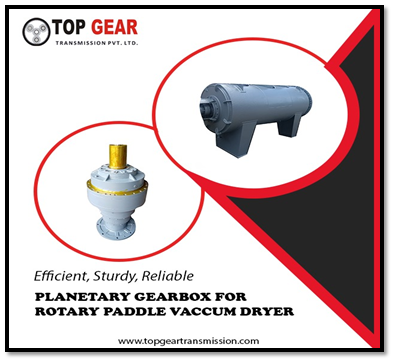 WE MAKE AN ART OUT OF EQUIPMENTS USED FOR DRYING
Today we are recognized as a leading manufacturer of industrial gearboxes especially planetary gearbox, planetary geared motor and custom built gearboxes for various industrial applications. Whenever it comes to processing industries we are customer's first choice for supplying efficient, reliable and cost effective planetary gearboxes in India. Till date we have supplied more than 15000+ gearboxes for process industries. Out of which we would like to highlight here our most prominent existence in field of drying equipment's especially Rotary Paddle Vacuum Dryers.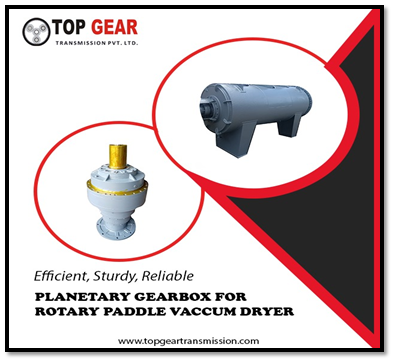 Drying is an important operation of process industry. Drying is a method in which liquid and solid is separated with the help of heat. It is an operation in which a solvent, generally water, is separated from a solution, semisolid material or cake/solid pastes by evaporation. Drying is used to eliminate the moisture during product processing especially for industries such as Food, Pharmaceuticals, chemicals, plastics, timber, paper etc.
Dryers can be classified into two main categories which are,
Direct dryers: Most dryers are classified as direct dryers, where hot air (at near atmospheric pressure) is used to supply the heat to evaporate water or other solvents from the product.
Indirect/Vacuum dryers, involves the use of a reduced-pressure atmosphere to surround the product.
Depending on the specific product attributes required, different industry sectors require different types of drying technology.
Vacuum dryers are one of the most important dryers and are mostly used batch dryers.  Vacuum dryers are usually considered when:  Low solids temperature must be maintained to prevent heat causing damage to the product or changing its nature. When toxic or valuable solvent recovery is required. When air combines with the product, during heating, causing oxidation or an explosive condition.
Hence the vacuum drying is considered as a viable technology mostly used in the pharmaceutical, food, plastics and textile industries, successfully for many years.
The Vacuum/indirect  dryers are known for producing minimal amounts of vapors with less pollution of heat carrying medium and with low energy consumption and operation  cost when compared to the direct dryers. Typical indirect dryers are paddle dryers, thin film dryers and rotary-disc dryers. For products having high specific weight, middle high viscosity, and requiring high process temperature and a very large working capacity, the use of the rotary paddle vacuum dryer is recommended.
Do you wonder How Rotary Paddle Vacuum Dryers (RPVD) Work?
Generally the Rotary paddle horizontal dryer is constructed as a jacketed horizontal cylinder with two heads provided with an outside jacket. Nozzles, for product feeding and discharge, for the bag filter, nitrogen inlet, bursting disc is provided. A heated horizontal shaft with radial paddles which scrape the wall, performs the mixing operation and supplies the majority of the total heat flux when compared to the heated outside vessel walls. This is due to the design of the shaft and the agitator blades, which allow the forced circulation of the heating fluid; the design and working conditions, are the same as for the outside jacket system. The rotating agitator blades prevent deposits, which would reduce the total heat-exchange in a short period of time. The scraping blades are designed and installed to facilitate the discharge of the dried product through the product discharge nozzle. This is achieved by reversing rotation. The shaft sealing can be either by a stuffing-box or a mechanical seal. The agitator drive consists of a gearbox coupled to a reversible/variable speed motor. The heating fluid inside the agitator both enters and exits the system through a rotating joint. A discharge plug valve is normally installed in the central part of the vessel and is activated by a pneumatic piston. A jacketed dust filter can be installed with a reverse jet cleaning system. The dryer capacity normally ranges from a few liters to approximately 20,000 liters. In some cases, the shaft is supported on only one side to allow the opening of the opposite head for cleaning and inspection. The design of the paddles provides for self-cleaning of the cylindrical body and heads all surfaces are consistent with GMP norms. The gearboxes serve as a driving heart for this equipment and have major impact on performance of the equipment. Use of planetary gearbox or planetary geared motor due to its added advantage enhances the performance of the equipment. To obtain product of high quality after drying, gearboxes from reputed gearbox manufacturers in India such as, Top Gear Transmissions has to be used
What data is required for selection of best suitable Vacuum Dryer?
If you are into purchase of dryer and wonder what data and gearbox make needs to be furnished in front of dryer manufacturer then you have to give following details.
Physical properties such as Bulk density of Wet cake, Volatile Content (Initial and final), Bulk density of desired dry powder,
Characteristics (temperature limit etc.)
End use of the material to be dried as well as the liquid being removed.
The maker of the gearbox also plays a major role in drying process. Hence,
Before finalizing the maker of the gearbox one has to take care of following things
Has the gearbox design been used for this product/process before? (Top Gear Transmissions has designed special series of planetary & planetary helical gearboxes for its use in rotary paddle vacuum dryers and is used extensively)
Is the gearbox been supplied to several manufacturers? (With expertise of Top Gear in manufacturing of industrial gearboxes in India for more than two decades, Top gear has catered various dryer equipment manufacturers in India)
What will be the gearbox advantages to the process, production or maintenance departments? (use of gearboxes of reputed make such as Top Gear, which manufactures highly reliable, efficient and less maintenance drives for rotary paddle vacuum dryer will give you added benefit for process, production and maintenance. Moreover, proper support and service from Top Gear Team ensures minimum breakdown time and proper maintenance of your drives)
Is the Gearbox capable of meeting your stringent quality standards with regards to the overall performance of the design? (Here, at Top Gear we follow stringent quality norms as a result of which we are able to deliver high quality gearboxes for rotary paddle vacuum dryers)
Will the unit selected fit into an existing area? Does the area need to be enlarged? (In order to fit your drying equipment in less space you have to opt for planetary gearboxes which are compact and have high torque transmitting capacity for given space as compared to other types of gearboxes.
Cost associated with the gearboxes? (Gearbox forms one of the major part of rotary paddle vacuum dryers, to reduce the overall cost of rotary paddle vacuum dryer without affecting the product quality it is necessary to opt for leading gearbox manufacturers such as Top Gear, who are recognized for their cost effective gearboxes)
Hence for  the dryer to perform the necessary functions with a better and more efficient operation use of specially designed series of planetary & Planetary Helical gearboxes from the Top Gears Make is highly recommended.