Top Gear Exports Gearboxes from India to Italy
Globalization has changed us into a company that searches the world, not just to sell gearboxes, but to find intellectual capital. Our journey of exporting the experience of being delighted continues with our Export of Gearboxes from India to Italy. Top Gear is never slackening off on pursuing the best in the Global Market. Hence, we wish to achieve higher customer satisfaction and enhance our relationships with global customers by advancing our quality level.
Based on our reach experience in Manufacturing of the industrial gearboxes. Top Gear Transmissions have achieved significant milestone by designing an Effective, innovative and reliable series of Gearboxes specially designed for thread rolling machines. We offer customer oriented transmission solutions with function of precision, durable, less maintenance and competitive price.
Do you wonder what Thread Rolling Process is?
Thread rolling is a metal rolling process used to manufacture industrial screws, bolts, fasteners, etc.  The most common method involved in manufacturing of threaded parts involves forming the threads into the metal of a blank by a pressing and rolling action between the two die. The die surfaces hold the shape and the force of the action forms the threads into the material.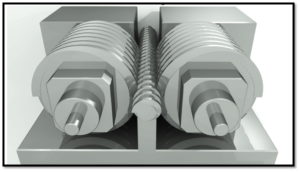 In Modern Era, the thread rolling operation is expected to have an extremely high productivity rate, significantly higher than producing threaded parts by machining. One of the most prominent benefit of producing the threads by rolling operation than machining is, in rolling operation forming will harden the metal through cold working, and hence does not waste material by cutting, and produces a favorable grain structure to strengthen the part with respect to its function.
Exported our gearboxes to the Innovators of the Rolling machines
The impact of the Innovative industries in field of technology always results in exporting their best to the best. ORT ITALIA is a company leader in rolling machines field and is well known all over the world for its quality and reliability. Founded in 1964 by Luciano e Paolo Cavagnoli, ORT ITALIA has produced more than 4000 machines, installed all around the world. ORT manufactures High precise rolling machines for rolling special profiles such as ACME threads, worm gears, ball screws and serrations.
These machines are the most suitable for the use of automations and feeding devices and they are featured by a high sturdiness but compact frame with several innovative technical solutions for a quick set-up and friendly use ("automatic adjustment of the swivel angle"; dies match research and Energy Saving). All the machines are suitable for In feed and Thru feed rolling process.
Hence to meet the ORT Italia's commitment in delivering the best, we had to manufacture the gearboxes in line with their machine quality by exporting the possibility in every direction through dedication and innovation.
Gearbox for Worm Rolling Machine
The worm rolling gearbox specially built for ORT Italia provides maximum stability of part diameter and straightness for the rolling of large diameter, high hardness and precision threads while maintaining a fixed centerline allowing for simplified tooling design.
This gearboxes are equipped with high precision and optimally designed spur and helical gear combinations with a 4 speed shifter mechanism for adjusting the feed and torque. Also these gearboxes come with a pneumatically actuated clutch for engaging and disengaging one roller die.  This  high performance infeed & thru feed two die cylindrical worm rolling gearbox is typically used in worm rolling machines to  produce precision thread forms on Worm Shafts, rock drill shafts, gas compressor rods, jack  screws, lead screws & other similar products that require a precision thread roller to meet their needs. These gearboxes can also be connected to NC control through an encoder arrangement allowing real time monitoring for process control.
In sum, the designed gearbox is simple and compact for its structure to suit in the thread rolling machine. Its transmission efficiency is high with high torque transmitting capacity
this stable drive proves to be reliable with its unique features. This series of gearbox is designed for its long working life with an aim to reduce the frequent breakdown and maintenance.
We consider ourselves grateful for ORT Italia to provide us this opportunity to develop these gearboxes for their thread Rolling Machines.
Why Choose Top Gear as your Gearbox Exporter From India?
If you are looking forward to working with one of the industrial Gearbox manufacturers in India, here are some reasons why Top Gear should constitute your choice.
Serving Diverse industrial applications
Decades of qualitative and quantitative experience
State-of-the-art manufacturing technology and infrastructure
World class product quality
Innovative Product Range tailored to customized customer needs
Value for Money
Reliable Products Designed for Longer Life
24×7 Support and service world wide
Thriving in the competitive manufacturing market of India requires you to partner with the best exporters of gearboxes among them. So, if you want to leverage gearboxes with uncompromised quality and competitive price, choose Top Gear Transmissions – the Leading Manufacturers of Industrial Gearboxes in India.
Top Gear after carving out niche name as Leading gearbox Manufacturer in India have successfully created the footprints in Italy by consistently supplying the world class products to the Esteemed organizations of Italy.