Technology for Well Being of Society: Planetary gearbox for Animal Feed
Technology is something which should not just me meant for purpose of selling, perhaps technology should be meant for bringing innovation with an aim to reduce or eliminate the human efforts. Here it is another example of such technology…
Development of Planetary gearbox for Animal Feed specially developed for Indian Farmers…
Equipment manufacturers in India are on verge of understanding the needs and requirements of Indian people and accordingly are introducing new technologies thereby having a technological revolution in it. Probity System is one of it who came to us with an idea to develop a low cost effective mixer for purpose of mixing animal food for the well being of farmers. Gearboxes are the driving heart for such kind of mixers and we Top Gear Transmissions are in the heart of such OEM's who are in need of reliable, efficient and cost effective industrial gearboxes. As a result of which today we are recognized as leading manufacturer of industrial gearboxes in India.
Technological innovations have greatly shaped agriculture throughout time. Food is one of the most important basic needs of animals in order to survive. That is why food and machinery are related in terms of food production, preparation and other processes. Production of animal feed on the market has been through some process such as crushing, mixing, pelleting and drying. A satisfactory mixing process produces a uniform feed in a minimum time with a minimum cost of overhead, power, and labour.
Understanding the current situation of Indian Farmers the main challenge for Probity System was the cost of the mixer. We as a Gearbox manufacturer took this as a challenge because initially gearbox contributed for 30% of total cost of equipment. Our design team contributed a lot in this by implementing value engineering to a greater extent as a result of which we were about to develop new series of Planetary Gearbox specially designed for this application which was highly cost effective and efficient.
The mixing is performed by four curved blades clamped on the main shaft which when revolve give continuous turbulent movement to the ingredients. This main shaft is connected and driven by the gearbox hence the gearbox is designed taking into consideration the torsional and bending load acting on it. We recommended OEM for proper alignment of gearbox and main shaft, as it is very important for preventing additional stresses. Our planetary gearbox is fitted to this mixer for long trouble free life and energy efficiency.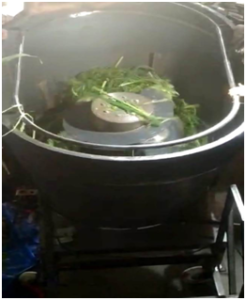 Testing of the mixer was conducted by evaluating its ability to blend feed components, and duration of mixing. The efficiency of the machine, its associated cost of production and the product obtained after few minutes of mixing was outstanding, thereby, making the design acceptable and cost effective.
Likewise till date we have helped lot of small & medium OEM's like bar bending manufacturers, construction equipment manufacturers, chemical equipment manufacturers and many more by delivering the best in class planetary gearboxes to them fulfilling their needs and requirements.
Our Identity is measured with the number of customers satisfied by us with our superior product quality, efficiency and reliability. As a result of which today we are renowned planetary gearbox manufacturers in India.