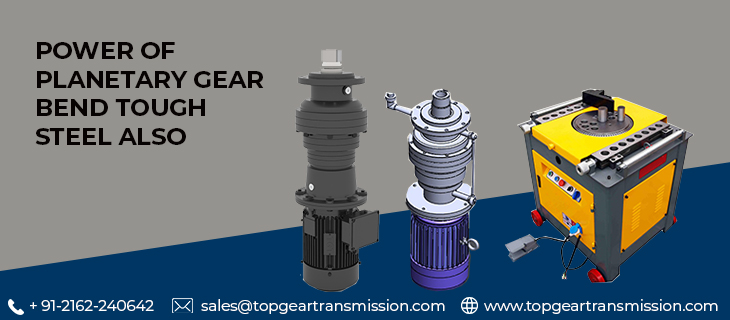 Design & development of Planetary Gearbox for Bar Bending Machine
Bar bending is extensively required in the construction of buildings and fabricators. Due to human's inability to bend metals into desired shapes and angles, nowadays we need machines to produce quality products. Each and every work of humans is reduced by a machine. The bar bending machine is used for bending rods, strips, angles, and bars.  Bar Bending Machines are invented with an aim to reduce the manpower, time, and difficulties of the work. But still, the small construction workers prefer to bend the bars manually due to the high cost of machines, difficulty in handling, and Maintenance.
The main components of bar bending machines are the Motor, Gearbox, Extended Shaft, hub, coupling, Belt Pulleys, etc. The gearbox used can be Helical, Planetary, Worm, etc.
To develop the Gearbox for bar bending machines, Top gear Transmissions carried out in-depth research regarding the functioning, objectives, and limitations of current bar bending machines.  To enhance the functioning of the bar bending machine, Top Gear came out with a solution as the use of Planetary Gearbox for bar bending machines due to various advantages of planetary gearbox such as Compactness, High Torque Transmitting Capacity, Efficiency, Less noise, and Maintenance. Our goal was to develop & design a Planetary gearbox series for bar bending machine to bend a bar of any free size with an aim to achieve a high production rate with less manpower & of high desired accuracy.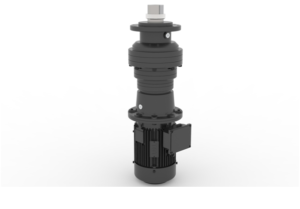 Depending upon the bar sizes, we calculated the power and torque required to bend the bars of different sizes. The Planetary Gearbox series for bar bending is designed in such a way that, the torque generated by the gearbox is sufficient enough to bend the bar of dia. 12 mm to 48 mm easily. Top Gear designs a special planetary gearbox with a hollow output shaft with a single or double keyway so which the banding wheel of the machine is attached. This arrangement eliminated the need for other connecting parts resulting in a simple construction. This kind of gearbox is offered with flange mounting for direct attachment of the motor to eliminate the belt pulley arrangement. This drive is supplied with long-life synthetic lubricants.
The Key Features of our Planetary Gearbox Series such as,
Can be offered in multiple input & output configurations.
Wide range of reduction ratios and High torque transmission
Modular construction
Interchangeability of parts
Co-axial drives
High overhang load capacity
Special series available with taper roller bearings to take care of high radial and thrust loads
High Efficiency
Less Maintenance and Noise
Made us buyers' first choice for bar banding machines. As a result of which we are serving various leading OEMs involved in the manufacturing of Bar Bending Machines. The development of the planetary gearbox series for this application served as a simple solution for bar bending machines which was very easy to install and simple in construction. This drive increased the efficiency of the bar bending machine and reduced the number of parts thereby reducing the cost. High torque was available due to the use of multiple planets in the planetary drive. This drive resulted in increased production capacity of Equipment Manufacturer.
Today, Top Gear Transmissions is recognized as the leading Manufacturers of Planetary Gearboxes in India offering a wide range of industrial gearboxes.